Infinite Recording Studios of Boston / North Shore
Custom Music & Beat Production, World-Class Vocal Tracking, Mixing, Mastering, Podcasting, Lessons & More
Come expand  your creativity & try any style & genre, both musically and lyrically. We are songwriters, producers & engineers from many different backgrounds with a common goals:
• Creating exceptional recordings that express who YOU are with limitless possibilities.
• Producing in ALL styles, ALL genres, ALL languages.
• Creating YOUR sound with custom production/beat creation, tracking, mixing & mastering. Work with us to express who YOU are as an artist.
Comfort & Vibe
Comfort and Vibe are key elements in the creative process at Infinite Recording. We've constructed each recording studio and common area to be comfortable and inspiring. We welcome musicians, artists and producers to dig in and create. With large screen TV's, a kitchen and even an XBox360 we provide all of the creature comforts that are conducive to creativity.
Make a Difference
Get your message out to the world! Whether you need a trap beat or an orchestral arrangement we have the producer and engineer that can make your vision come alive.
Infinite Potential
At Infinite Recording Studios in Boston / North Shore we can bring any style to your music so take chances! Let us develop something fresh and new with your music. Don't limit yourself with a ripped YouTube beat or a bought track that wasn't custom built for you. 
"Custom Made Beats and
Music Production gives you
total control of YOUR music."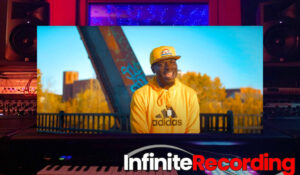 Hustle Hard by CHAMP72 recorded at Infinite Recording Studios with vocal production by Steve Catizone
Steve Catizone of Infinite Recording (Black Eyed Peas, Charli XCX, Justin Bieber, Wyclef Jean, Godsmack, Alanis Morrissette, Big Sean), located in the Boston area, has decades of experience producing and engineering artists across the musical spectrum. We recently connected with Steve to get his insights on the importance of having the right vibe in the studio, get the scoop on several student hires, and talk about mentoring during the global pandemic…
As 2020 begins to end and the new year approaches around the corner, we at Infinite Recording are extremely excited for what is to come for the new year! For starters, we've created a brand new YouTube channel where we'll begin to release content from our studio! Take a look at our first video below […]
Sony Music
Atlantic Records
Warner Music Group
Interscope Records
Universal Music Group
Audible.com
Comedy Central
New Wave Entertainment
ASCAP
Barstool Sports